At Mind Body Wellness Retreats, our mission is to inspire people to journey inward and invest in their health and wellness with our mindfulness-based wellness retreats!
We specialize in offering luxury wellness retreats for corporations, universities, individuals, couples and families. More than just a tour operator, we implement top notch mindfulness-based wellness programming at affordable rates.
"Wise guides redirect us back to our deep knowing."
– Joel Solomon
Meet Our Wellness Team!
Jaclyn Kelly Long
Specialties: Mindfulness, Compassion, Effective Communication, Asset-Building, Team-Building
Jaclyn Kelly Long is the Founder & Director of Mind Body Wellness Retreats. She leads international workshops and retreats, and is a certified yoga teacher, mindfulness instructor, Marriage & Family Therapist, parent educator, and a mom. She graduated summa cum laude from Princeton University with a degree in psychology and a specialization in neuroscience. She has a Master's degree in counseling psychology from Sofia University with a certificate in creative expression. She has been teaching yoga and meditation since 2001, serving as a Marriage & Family Therapist since 2003, and has been leading international wellness workshops and retreats since 2004.
Jaclyn values self-awareness, authenticity and meaningful relationships. She believes in the transformative power of mindfulness, conscious communication and supportive community. Jaclyn is passionate about empowering leaders – both at home and in the workplace – with inner skills rooted in compassionate self awareness, emotional regulation and resilience for the benefit of co-workers, family members and the community at large.
In her free time, Jackie enjoys surfing, singing, songwriting, practicing yoga on the beach, hanging out with friends and playing with her husband and son.
Jalene Nardella Salus
Specialties: Leadership, Integrative Nutrition, Mindfulness, Asset-Building, Team-Building
Jalene is a Certified Holistic Health & Nutrition Counselor as well as a Licensed Marriage & Family Therapist. She is also a mindfulness instructor, retreat facilitator, parent educator and mother. She is passionate about inspiring others to live healthy, authentic, and dynamic lives that reflect their greatest potential. She helps people make lifestyle choices that transform their families, communities, and the world.
Jalene offers holistic nutrition counseling and individual, couple, & family therapy. She also leads workshops and retreats on integrative health topics, provides wellness consulting, mindfulness instruction, parenting education and coaching. Above all, you will sense her deep listening with a pure belief in people, and her presence with others in a sacred and honoring manner.
Lorenia Parada-Ampudia
Specialties: Leadership, Mindfulness, Compassion, Team-Building
Lorenia Parada-Ampudia is a leader in the field of mindfulness and leadership training. She supports clients and organizations in the USA and Mexico through a highly effective leadership training style that integrates transformative learning, mindfulness, emotional intelligence and body consciousness. The result: higher-performing, less stressed and more effective leaders.
With Lorenia's guidance you will:
– Improve decision-making skills.
– Learn to cultivate healthy relationships with yourself and with others in your family, community and work place.
– Increase self-awareness and self-regulation by learning to identify bodily sensations, emotions, thoughts, habits, patterns of behavior and beliefs.
– Enhance abilities to consciously listen, communicate and effectively relate with others.
– Identify internal resources to develop resilience and establish better ways to deal with stress.
– Transcend ones' edges towards personal, group and societal growth.
Dr. Andrea Castillo, PhD
Specialties: Mindfulness, Compassion
Dr. Andrea Castillo is a mindfulness and Insight Meditation teacher. She grew up among artists, especially dancers, watching and partaking in rehearsals, and performances of her parents company Ballet para Todos in Mexico City. Andrea graduated from Stanford University with a Ph.D. in the Humanities; her multi- disciplinary dissertation dealt with Goethe, music, dance, and the visual arts. She launched the undergraduate music program at the Universidad de las Americas Puebla, Mexico where she taught and was chair of the department for four years. She also taught at Stanford University for three years as part of the Ph.D. program.
The guiding principle of all of Andrea's studies has been finding meaning, depth, and happiness in our lives. This interest has dovetailed with her deep involvement in mindfulness and meditation, which she started practicing in 1998, at the Insight Meditation Center, with her teacher Gil Fronsdal. She has been teaching since 2007. Presently Andrea teaches at the Insight Meditation Center in Redwood City and at Against the Stream in San Francisco. She has also taught many mindfulness workshops throughout the Bay Area.
Andrea has danced in a dance improvisation group in Palo Alto for 18 years. She believes in the power of dance as a meditation in movement that allows emotions to flow through us, through movements that originate deep within us and are unique to who we are.
Motherhood has been a very rewarding experience for Andrea and a rich terrain for learning. Her son is a fun, awake, and creative young man working at Google.
Krassi Harwell
Krassi is a certified yoga instructor, an author, a DONA certified birth and postpartum doula and a counseling practitioner in the Hakomi method, which weaves the mindfulness and non-violence principles of Eastern philosophy with Western Psychology.
In 1996 Krassi left her native Bulgaria and moved to the SF Bay Area where she rediscovered yoga and has been an avid student of the art ever since. In 2001 she took a year-long trip to India and Thailand, and received her yoga teacher-training certification from Vivekanada Prashanti Kutiram Yoga Institute in Bangalore, India. Krassi's teaching focuses on integrating the spiritual, emotional and mental aspects of yoga within a physical practice. As part of her yoga teacher training, Krassi had the joy of teaching yoga to children in the Himalayan mountains. Since then sharing yoga with little ones and their families has been a passion and a calling. Krassi has taught yoga to children in school setting, yoga studios, preschools and week-long family retreats in Hawaii and Costa Rica. She is the author of a book for children Morning, Zora! and the beautiful and playful Yoga Cards for Children.
As the mother of two, Krassi has experienced first hand how the tools she has acquired through her study of yoga, mindfulness and psychology can make the beautiful and often challenging journey through parenthood smoother and more enjoyable.
Karen Hoffman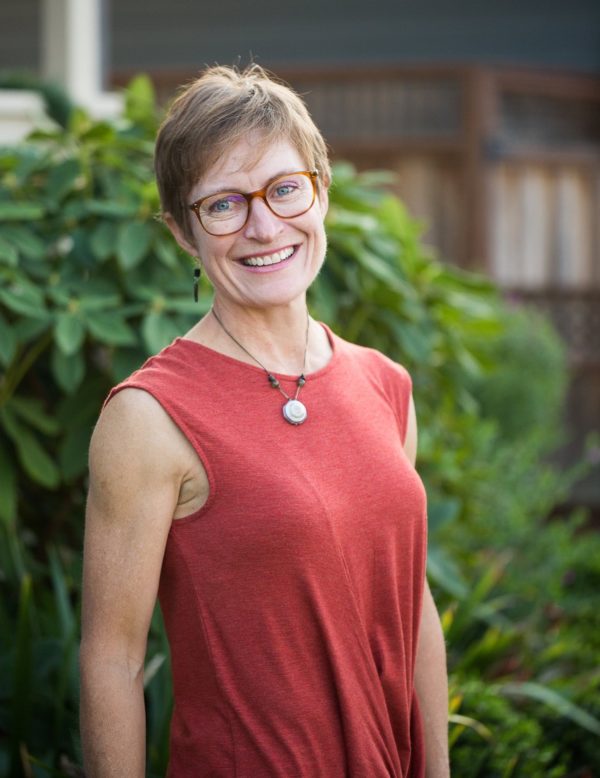 Karen is a Wellness Coach whose life work is seeded in a deep curiosity and commitment to personal growth. With over 30 years experience in human development and leadership, she is passionate about holding space and sharing tools with people to get clear and courageous about the life they want to live. Karen's offerings are grounded in her personal practices of mindfulness, yoga, writing and nature. In addition, she draws upon her past work as a clinical massage therapist to deepen into body awareness as an anchor for change. Karen has coached both individuals and groups in schools, organizations and communities. She is also co-founder of Watershed Practice, a group personal growth business where all the fun and learning happens outdoors in nature.
To find out more about Karen's coaching philosophy, CLICK HERE.
Carly Forest
Specialties: Yin Yoga, Qi Gong, Self-Inquiry, Journaling, Poetry
Carly believes that retreating form our own busy lives is a deeply supportive act of remembering: remembering ourselves, our deepest longing and heartfelt intentions to live a meaningful life. It helps us to stretch time and access liminal space. It helps us see, hear and feel life differently. Drawing inspiration and wisdom from the natural world, Carly offer Yin yoga, mindfulness and psycho-spiritual inquiry as a way to assist you in attuning to your external environment and your inner landscapes. Carly will help us explore the themes of surrender and expansion, yin and yang, descent and ascent and how to hold the paradox of being human with grace and courage. Coupled with writing, self-inquiry work, and luminous poetry, Carly will help awaken your senses and encourage you to connect with a rhythm that is naturally yours. Her evening yin yoga classes will help you drift off into a deep, restful sleep, and will empower you with mindfulness tools that you can carry with you for your entire life.
Since taking part in her first meditation training in 2002, she has continued to sit on regular retreats in both the Theravadin and Tibetan Buddhist traditions, and to study closely with her primary teacher, Sarah Powers. In addition to completing an 18-month Mindfulness Yoga and Meditation Training at Spirit Rock Meditation Center, she graduated from a two-year intensive training with the Insight Yoga Institute in California and since 2013 has been training with the International Institute of Medical Qi Qong.
Nourished by the consistent teachings of her mentors and rooted in the solid ground of her eighteen-year personal practice, she has guided thousands of students through foundational practices and focused trainings over the past fifteen years, including Moksha Yoga's advanced teacher training in Nosara, Costa Rica.
An endorsed Insight Yoga Teacher and mentor, Carly has also trained in psychology and community counseling and has a private energy medicine practice. She offers pre-registered classes, workshops, retreats, and teacher trainings locally and abroad, and advises and support individuals around the world as they grow in their practice and their teaching.
Carly was the Yin and mindfulness teacher to the Canadian National Women's 7s Rugby Team, winners of the Bronze Medal at the 2016 Olympics in Rio, Brazil. She extends immeasurable gratitude to her principal teachers, Sarah Powers and Jennifer Welwood.
"Perhaps love is the process of my leading you gently back to yourself."
– Antoine de Saint-Exupery